Culligan® Bottleless Coolers
An unlimited supply of bottled-water quality water!
Bottleless Water Coolers Are Better for Companies
Is your office still relying on cumbersome, time-consuming 5 gallon bottled water coolers or wasteful individual water bottles?
A Culligan® Bottleless Cooler provides cool, refreshing water every time. These coolers attach to your business's water supply and run the water through advanced filters, removing impurities and contaminants. The filtered water is then stored in an internal storage tank, so you'll have plenty on hand whenever you need it. Culligan® Bottleless Coolers have a variety of temperature options, giving your employees cold, warm or hot water with the push of a button.
Benefits of a Culligan® Bottleless Cooler
Great Tasting Water - Our advanced filtration process removes unpleasant tastes, including sour, metallic and soapy tastes, and odors, including chlorine and "rotten-egg" smells. It also removes dirt, silt, clay and other sediments.
Hassle-Free - Never run out of great-tasting Culligan water at your office again. Your Culligan Bottleless® Water Cooler can be installed almost anywhere in your office, so better water is always within reach for your employees. We work with you to determine the type of cooler and the best cooler needed to make the water in your office taste great. We will deliver and install the coolers and water filters, and then come out periodically to clean and sanitize the unit.
Sanitary - A Culligan Bottleless® Cooler provides you and your office with water that is never exposed to contaminants in the air or touched by human hands.
Modern, Space Saving Design - Culligan offers a variety of coolers to fit your office needs. Whether you are looking for a classic tower model or a sleek countertop model, your local Culligan Representative has the perfect cooler for your business.
EPA Certified - Culligan Bottleless® Office Water Coolers are EPA Energy Star certified, using about half the energy of similar products. With our Bottleless® Office Water Cooler, you can achieve your company's green initiatives by saving energy and saving our environment.
Free Standing Units: WS 5000, WS 7000 & WS 9000
The
Wellsys 5000
,
7000
, and
9000
provide exceptional quality and reliability for your office. These coolers easily dispense large quantities of hot and cold water and are designed to fit with any combination of Wellsys filters. Depending on the model, enjoy built-in leak detection and touch activated dispense sensors while continuously receiving state of the art filtration and sanitization.
Counter-Top Units: WS 1000 & WS 9000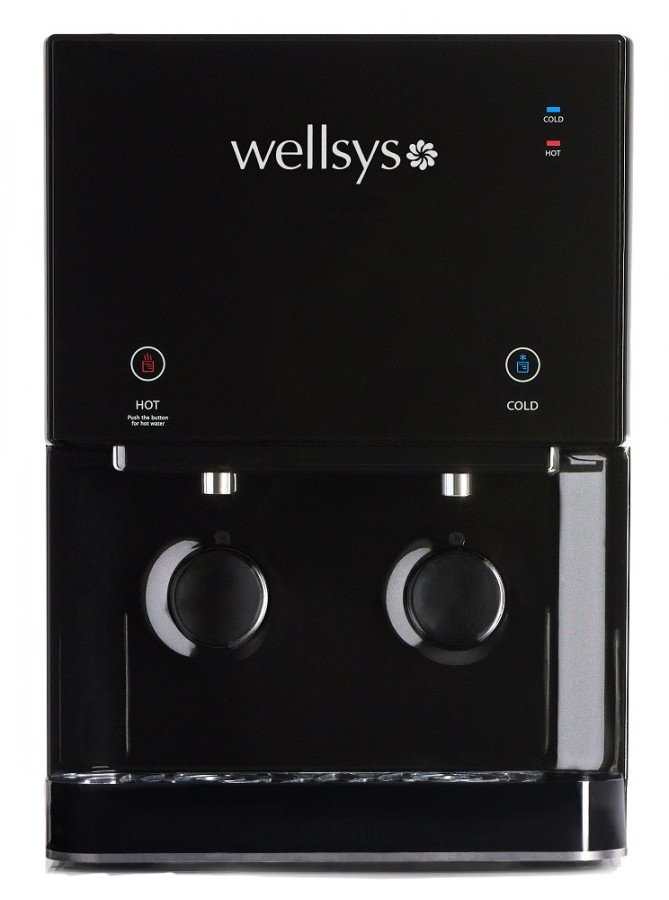 Ice Maker and Water Dispenser: WS 12000
The
Wellsys 12000
model provides endless filtered water for your workplace in compact designs – and now includes ice! This cooler features multistage filtration and mineral enhancing technology to balance pH and restore valuable nutrients. Additional benefits include the production of up to 100 pounds of ice per day depending on the model.
Clover Hot/Cold Water Coolers
The
Clover D7A
,
D16A
,
D25
and
D1A
"bottleless" water coolers are designed to offer hassle-free, quality, reliability and connect directly to your business's existing water supply. The water runs through Culligan advanced filters, removing impurities and contaminants. Clover models are manufactured with a high-density polyethylene cabinet, the exterior won't corrode or rust, allowing this water dispenser to look good for years to come. All Clover water dispensers feature a stainless steel non-removable reservoir, ensuring that your water will taste cool and refreshing every time.
Foot Pedal: WS Touchless Foot Pedal (WS 7000, WS 9000, WS 9000CT)
Wellsys bottleless coolers with the
WS Touchless Dispense Foot Pedal
are designed to offer you cold, filtered water - hands free! The foot pedal is designed to easily work with your Wellsys 7000, 9000, and 9000CT units.
These Bottleless Coolers can also come with your choice of filter from the options below:
Sediment Filter
Pre-Carbon Filter
Ultra-Fine (UF) Filter
Latest
Blog Posts
What Are Your Water Resolutions? The new year is a great opportunity to improve your home. And setting water resolutions...
Prepare Your Home's Water for the Holiday Season The holidays may look different this year, but it's still important to...
We love the convenience of the delivery service and our delivery driver Shawn!! He is just so friendly, kind and caring.

T Crawford
- Culligan Customer